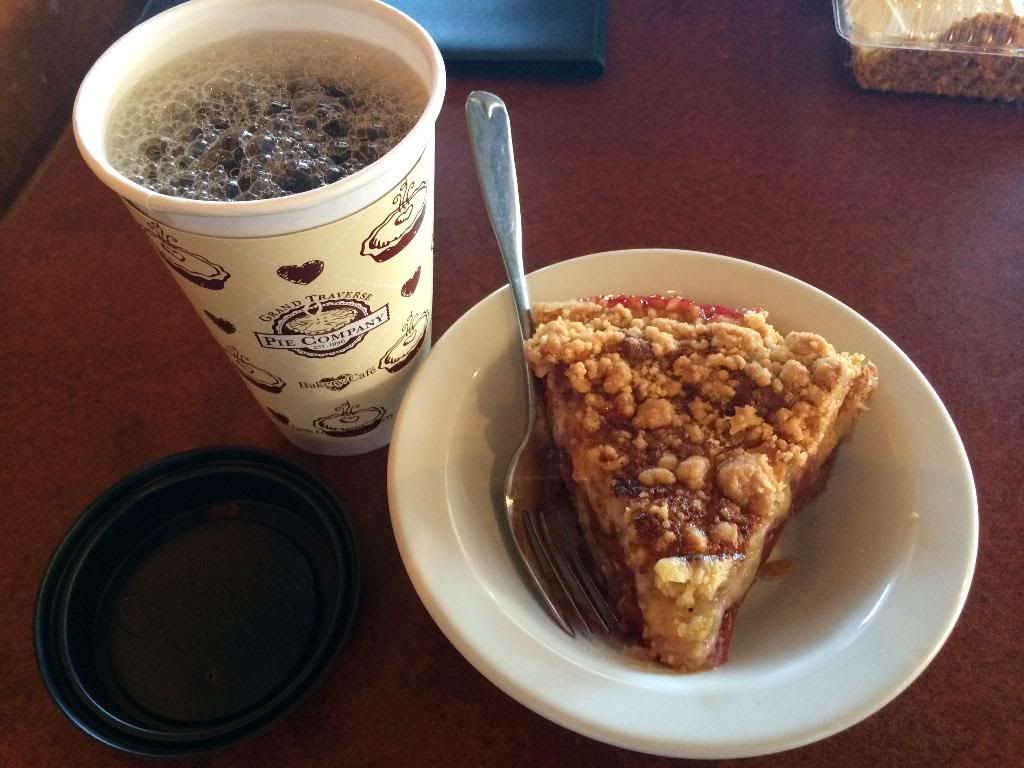 I have a massive sweet tooth. If there is a cupcakery, bakery, cookie cafe, ice cream shop, you name it, I will find it! One of the perks of Michigan is there is so much fruit! We really had no idea before we moved here from Iowa. And, of course, with fruit...there is pie! We drove by the Grand Traverse Pie Company one of our first weeks in Lansing. You know those local cafes/restaurants you see and mentally note, 'I need to eat there'. That was the Grand Traverse Pie Company. Its bright colored awning was calling our names! We finally went into the cafe two Sundays ago (I can't believe it took us as long as it did to go in) and now, it might be hard to keep us away from it.
The Grand Traverse Pie Company is a sweet tooth's heaven - pie's galore! When you walk in you are instantly faced with all the beautiful and delicious looking pies. It was a tough choice, but I decided on a slice of the Mission Cherry Crumble, since cherry is my favorite pie flavor. I paired it with some cherry coffee. The environment of the cafe is casual and relaxed; we were even surprised to see they have a fairly extensive lunch menu! The cashier was very friendly and informed us they have a rewards program, the
Pie Dough Club
, it's free and you get a free slice of pie when you sign up and on your birthday. Looks like I will be eating a lot of pie these next couple months! The best part? They have multiple locations across the entire state of Michigan!
If you live in Michigan or are passing through, I recommend adding the Grand Traverse Pie Company to your list of things to do/places to see. It is worth the stop (and your stomach will thank you)!
Now I need to know... what is your favorite flavor of pie?
Read More »